6 Financial Tips Every New Father Needs to Hear
A seasoned pro shares the basic moves that will help you better manage—and make the most of—your money.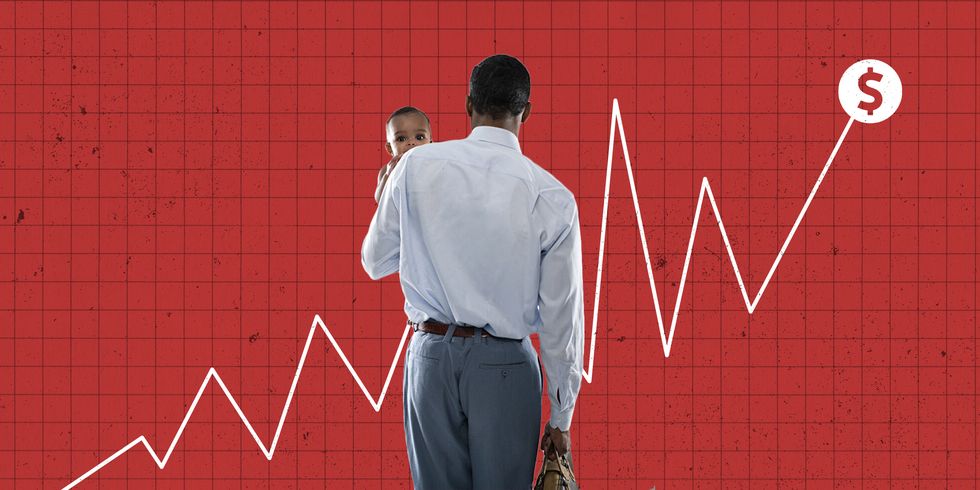 As exciting as it is to have your first kid, let's face it: It's often equally fear-inducing. Thinking about all that lies ahead (not only the sleepless nights and endless laundry, but also the growing grocery bills, new childcare expenses, even that looming college tuition), it's easy to become overwhelmed—which is why this life stage is a natural time to stop, take stock of your monetary situation, and make some smart adjustments, says Kate Moody, a personal financial educator and founder of Ms. Moody Money.
In general, "many people feel a lot of shame and anxiety when it comes to money, but having a baby is a great opportunity to clarify your values and develop mature, long-term financial habits," says Moody. In addition to easing your mind, getting your financial house in order is also a great step toward becoming a good dad. Research shows that kids as young as three years old can grasp the concept of money, so by making wise decisions, you'll model behaviors that your kids will likely mirror as they grow. Here are some strategies to get you started.
Give yourself a system, not just a budget.
Budgets are like New Year's resolutions: They're easy to make, but tough to stick to, especially once you have a new little one and expenses are popping up pretty much daily. To help monitor it all, Moody recommends using two credit cards: one for necessities like groceries, home maintenance, and utilities, and the other for entertainment and any luxuries or splurges. This turns each—living expenses and entertainment—into easy-to-track monthly bills.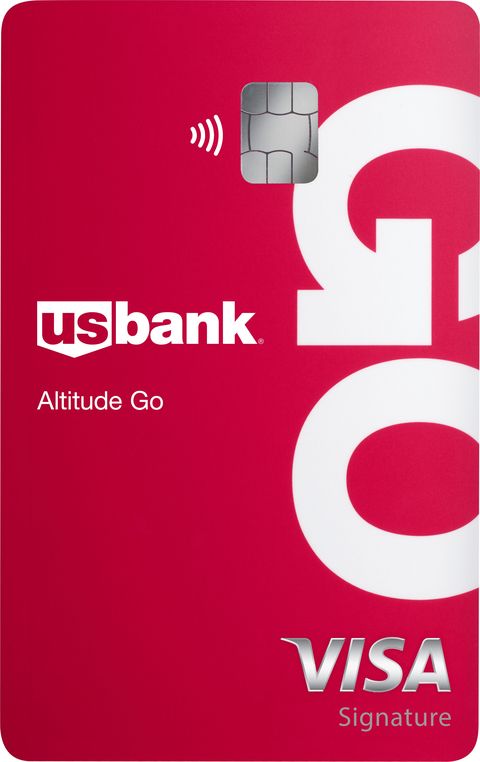 Make your credit card work for you.
Even if you're not using credit cards to manage your budget, it's a no-brainer to find a card with a robust rewards program; parenthood inevitably means you'll be spending more, so you might as well offset that by racking up some benefits. The U.S. Bank Altitude® Go Visa Signature® Card, for example, offers 20,000 bonus points (a $200 value) when you spend $1,000 in eligible purchases within the first 90 days of opening an account.
All eligible purchases earn points that never expire and are redeemable toward merchandise, gift cards, cash back, travel and more—and you get four times the points for many parenting-related purchases, including takeout, food delivery and dining. (Purchases made at supermarkets, gas stations, grocery delivery, and streaming services yield two times the points.) In a nutshell, the money you spend on diapers, pizza, and Netflix one month can help foot the bill for those same expenses the next.
Get an emergency fund going.
Inevitably, unpredictable things will happen (especially once you're a parent), so on those days—when your car craps out on the way to daycare drop-off or a pipe springs a leak—you'll be glad to have some cash set aside for the fix. Any monthly amount that you can build on is helpful if you're starting at zero, but the ideal, according to Moody, is to set up automatic deposits to a savings account to cover 6 to 12 months of your total monthly required expenses. (That amounts to roughly 25 to 50 percent of your annual income after taxes).
ID your updated insurance needs—and act on them.
It might sound morbid to think about dying when you're about to welcome a new human into the world, but life insurance is an essential part of planning for the future. Unlike auto and health insurance, which enable you to replace a fender or remove a ruptured appendix, life insurance can't bring you back to life (of course); it's really more like "income insurance." Should you pass away, your family won't be deprived of your earnings or have to take on your debts. Pro tip: Don't forget to factor in coverage for housework and childcare, which can both become big monthly expenses in a single-parent household.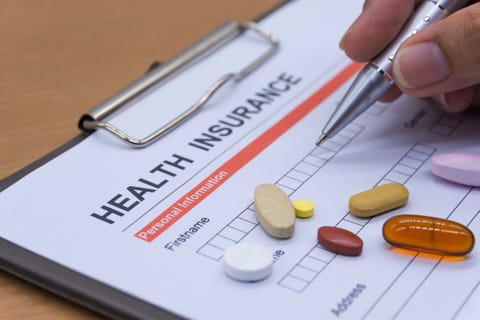 Perhaps even more important than life insurance is disability insurance: According to the Social Security Administration, one in four men will use their disability insurance policies during their lifetime while only one in 10 men will use life insurance. This type of plan can cover short and long-term absences from work and help defray loss of income due to accidents, physical and mental illnesses, and surgeries
Not sure how much either should cost? As a general rule of thumb, a life insurance policy should cover 10 times your annual income and disability insurance should cover approximately how much you'd need to keep your household afloat should your income dry up for a few months. But it's not an exact science, notes Moody. "Your debts, the ages of your kids, whether the other parent is working, and even down-the-road costs, such as college savings, can influence how much you'll really need," she says. With a new baby on board and rising expenses, your insurance costs should go up too, but the good news is that the younger you are, the cheaper your insurance will be. (So don't wait to get covered!).
The best rates are usually offered through an employer, says Moody; if you're shopping on your own, it's a good idea to talk to several independent insurance agents who can sell policies from multiple carriers and explain the different terms of each.
You need a will. Period.
The idea of a will, and any conversation around it, tends to make people uncomfortable, but resist the urge to avoid it. You need to know that if the unthinkable were to happen, your kids will go to the people you think are the best ones to care for them (without a will, the state will decide who gets custody.) Aside from that, the lack of a will can complicate your family's financials too—for example, in many states, if you're not officially married when you pass away, your assets will automatically go to your children, with none going to your partner.
It's best to hire a reputable estate lawyer who knows the ins and outs of your state's regulations to draw up your will. (The fee typically ranges from $500 to $1,000.) This lawyer can also help you establish a financial power of attorney and a power of attorney for healthcare, each of which allows you to designate who will call the shots regarding your money and medical care if you ever become incapacitated.
Spread out your savings.
Financial advisors like to reference an old saying, to encourage people to maximize their employer's retirement contribution plans: There's always money for college, but no one else will fund your retirement. (The bottom line: While saving up for college is important, you also want to ensure you're growing your nest egg and won't end up being a burden on your kids.)
Beyond the 401K, you can also utilize your bank to build up this funding; U.S. Bank, for example, offers several individual retirement accounts and wealth management services that can help you plan and attain your financial goals. When it comes to college, on the other hand, 529 plans are the gold standard for saving up. Money deposited in a 529 grows free of federal taxes and isn't taxed when the money is withdrawn to pay for educational needs—plus, anyone can contribute to your kid's 529, so they make great gift ideas for relatives. Plans are offered through the states (almost every state has its own).
Source: men's health