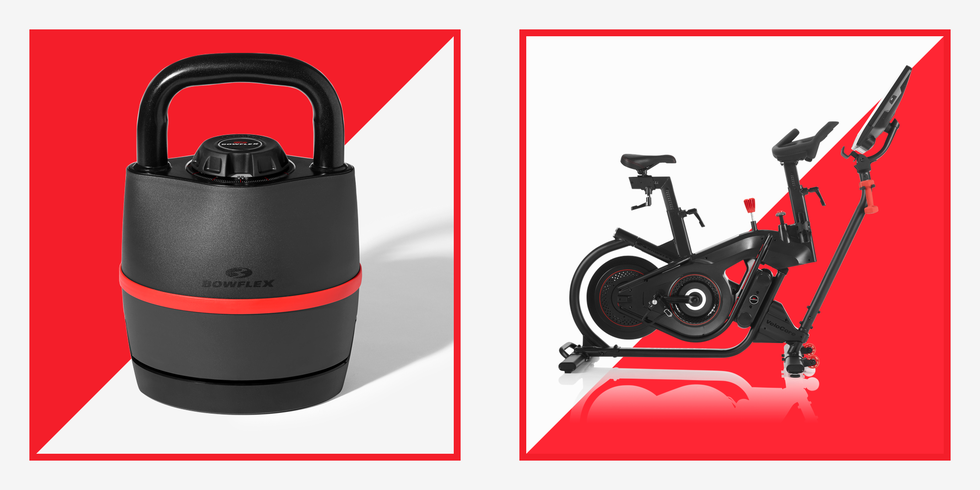 Amazon's Having a Big Sale on Bowflex Workout Equipment Today
By the way, the brand's best-selling dumbbells are the cheapest they've ever been.
If you want to take your home workout setup to the next level in 2022, you're in luck: Right now, Amazon is slashing the price of a bunch of Bowflex's popular workout equipment. You need a reason to break in those new workout shorts and other fitness wardrobe staples you scored over the holidays, right?
Bowflex might be popular for its compact, adjustable dumbbells, but the brand has a lot more to offer than a great set of weights. Since its founding in 1989, Bowflex has been coming up with innovative ways to incorporate cardio and strength into one, versatile piece. So if you want to create a pulse-pumping, at-home workout, now is as good a time as any to stock up on some new equipment.
So, what's actually worth adding to your cart? Well, it all depends on your exercise preferences. If you want to incorporate some more cardio into your routine, you'll get a lot of mileage (literally) out of Bowflex's indoor cycling bike, which is 32 percent off. Thanks to its 22-inch touchscreen, you can take to a sweat-inducing class or pedal along to your favorite streaming obsession. If you like to switch up your workouts, Bowflex's Blaze Home Gym can accommodate up to 60 workouts and it's $200 off.
Or, if strength training is your idea of a good workout, check out Bowflex's SelectTech 840 Kettlebell and SelectTech 552 Adjustable Dumbbell. Both sets of weights are perfect for deadlifts and bicep curls, respectively. Plus their clever, adjustable construction makes it possible to up your weight class without needing to buy even more equipment. (To sweeten this already enticing offer, Bowflex's single set dumbbell is the cheapest they've ever been on Amazon.)
But no matter which piece you buy, one thing's for sure: A great home gym is just a few clicks away…
Source: men's health