Entrepreneur Series With Richard Owusu Darko, Legend Bespoke
INTERVIEW: For a young man who was confused about what to do with his life after completing university is today the CEO of Legend Bespoke; a clothing company. Richard Owusu Darko shares how it all begun in 2009, the challenges he faced and how his designs are enabling African men wear suits to express their unique sense of fashion.
You have a big dream, that's fine but you need to start from somewhere.
What inspired you to become a designer of men's wear?
ROD: People expect you to be responsible after school by getting a job which is hard to come by though. I had an interest in fashion but I wasn't certain whether to settle for a regular job or venture into my own business. Well, I thought to myself if I want to start my own clothing line I will need start-up capital which I don't readily have. I applied for a job at the Kotoka International Airport to acquire some managerial skills and earn some money. While I was there my wife and I started the Legend Bespoke brand. I had no office then but I did have some few Nigerian customers I supplied to on their demand. My mates from school, friends and families also in a way supported by buying from me. My wife and I later acquired an office at Labone in 2014.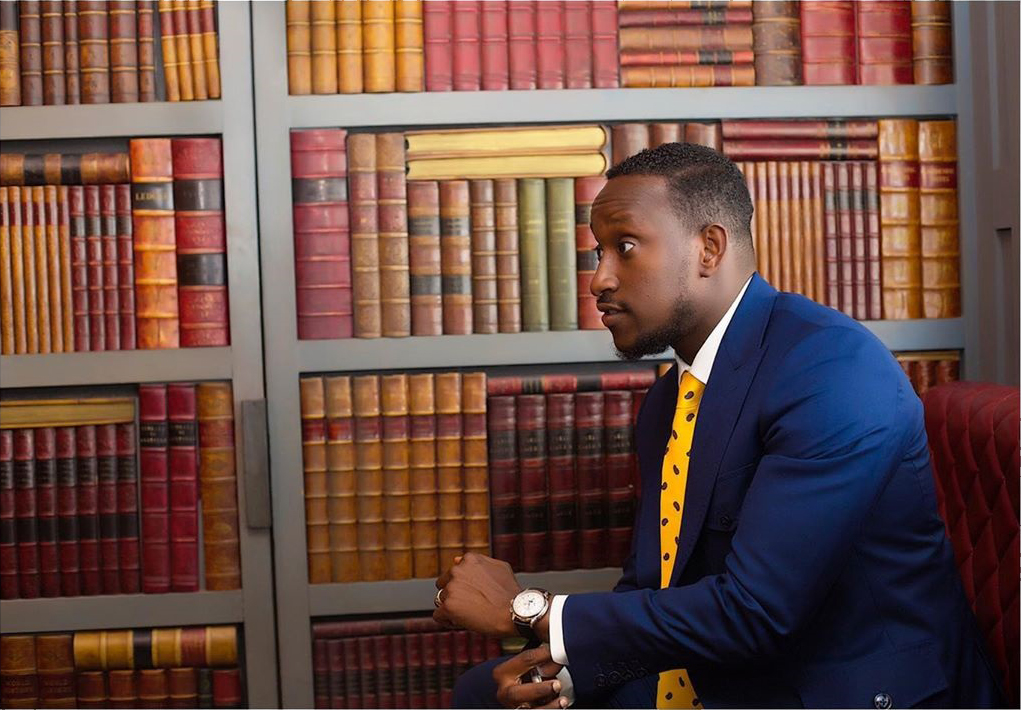 Did you make everything from scratch as a starter?
ROD: No. I didn't have the capacity to set up a factory to sew the suits so I sourced them from already existing well-known brands; more like a retail business. Anytime I had my three or four off-days from work, I traveled to Italy or Turkey to buy from my dealers. But as time went by I felt the urge to partner companies who could produce my own designs being it suits, shirts and shoes which will meet the demands of both Ghanaians and Nigerians. Well I couldn't possibly meet them in Ghana so I started attending trade shows in Italy, USA, UK and Spain who are well known worldwide for their success in the fashion industry. My effort paid off. I got some designers who bought into my ideas. I do the designing for the suits, shirts and shoes; choose the fabric I want then they produce them in their factories.
We have just one office in Ghana but we are working on penetrating the market in other parts of the country without necessarily setting up offices there.
How did you compete against other brands after coming out with your own line?
ROD: It wasn't easy at the initial stage because people didn't know the brand and were skeptical of the quality and its availability. My clients are people who have the taste for good products and high quality customer service and relationship which I go out of my way to satisfy. I always go in for the best fabrics to produce my stuff; I never compromise on that. Also, to get customers glued to my brand at all the time, I build a lasting friendship with them and meet them at the point of their needs. A customer can call me at 2am to deliver shoes or a shirt because he's going out of the country in the next hour, I can't say no. Customers will always stick with you and recommend you to friends if you make their satisfaction your priority.
What are some of the challenges you've faced in this industry?
ROD: Some designers didn't want to do business with me because I was black and from Africa. It was heart breaking but hey! I am used it now. I remember there were times I changed my accent to that of an African American in order to deal with these designers.
How are you taking advantage of social media platforms to boost your business?
ROD: I wasn't on any social media platforms until some few months ago. I thought my target audience was not active users of those platforms. But after seeking the advice of a friend I decided to sign up. Now we are very active on Instagram, Twitter and Facebook. And the benefits have been tremendous; I get surprised when people from the Northern Region call to buy from me after they saw my works on my social media pages.
Have you achieved your aim of owning a business?
ROD: Yes. Ghanaians are wearing suits, shirts, shoes designed by me for them to express who they really are, that's a dream come true. We inspire men from all walks of life to believe that taking care of your appearance and projecting your own image is what makes you unique.
In the next 10 years, where will Legend Bespoke be?
ROD: We have just one office in Ghana but we are working on penetrating the market in other parts of the country without necessarily setting up offices there. We are also planning on registering our presence in other neighboring countries.
What business advice will you give to someone trying to start a business?
ROD: You have a big dream, that's fine but you need to start from somewhere. My wife and I had a big picture of what we wanted our business to be like and we were trying to achieve that at once. But later we realized that growing a business takes a gradual process. To build a successful brand you need to be focused, work hard and make customer satisfaction your number one priority.