Q&A With Obibini
WITH A VOICE THAT SHIFTS SEAMLESSLY BETWEEN BLUNT, HUMOROUS AND
MELODIC, THE 32 BARS HIT MAKER IS MAKING RAP TO A WHOLE NEW BEAT. BORN DAVID KWAKU EFFUM BOAFO WITHHIS UNIQUE STYLE OF BLENDING ENGLISH WITH THE TWI LANGUAGE, OBIBINI IS MAKING WAVES WITH HIS EP DIAGRAMS. THE ACCRA NEW TOWN NATIVE MAY HAVE PICKED UP CUES FROM GROWING UP LISTENING TO RAPPERS LIKE REGGIE ROCKSTONE, OBRAFOUR, OUTCAST AND BUSTA RHYMES. WHILE NOT WELL KNOWN TO MANY, OBIBINI HAS A VIBE AND MINDSET THAT COULD PUSH HIM IN AN ERA WHERE GREAT AMOUNTS OF ARTISTS ARE EMERGING BY DAY. WE CAUGHT UP WITH THE RAP PRODIGY ABOUT HIS DIVERSE TASTE AND LOVE FOR SOUR SOP. WE LEARNED ABOUT THE INFLUENCES OF SEVERAL ASPECTS OF HIS LIFE; FROM THE PEOPLE WHO HAVE MOTIVATED HIM ALONG THE WAY, TO THE ARTISTS WHO HAVE UNKNOWINGLY SHAPED WHO HE IS TODAY
How are you faring during the COVID-19 pandemic?
OBIBINI: So far so good. By God's grace weare free from Covid-19. We are following the precautions out there, wearing the masks and sanitizing every now and then. We're good. I mean God's got us so we are good.
Are there projects or shows you haven't been able to execute due to the pandemic?
OBIBINI: I mean of course. My plans have been hit hard by the covid-19 pandemic. At the beginning of the year, my team and I had solid plans which include a concert at Alliance Francais and a lot of things to do. This has come as a big blow to not just to me as a musician but to the whole music…industry. We are just praying God gives us a vaccine so things can go back to our normal lives.
Where are you from? Have your surroundings shaped you in a creative sense and in what way(s)?
OBIBINI: My mum is from Asante Efijasi and my dad is an Akwapem from Aburi.
Since I am an Akan and we trace our lineage through the matrilineal side, then
I can say I am an Asante. However, I grew up at Mile 7, Achimota and this where the whole music vibe started for me, actually. I had my first set of fans at Mile 7 and I had two concerts of my own there and OB is Mile 7 and Mile 7 is OB. Also, I can confidently say Mile 7 has influenced my approach to music in many ways I can never imagine. The reality on those streets is hard and as a Mile 7 boy, I'd say I've been through every phase of it; which really affected the way I write my music. I have seen it all on those streets and it has really helped me in terms of creativity as I can touch on any topic given. The youth of Mile 7 consist mostly of kids who have been on their own for a long time basically and I feel proud to represent them. Mile 7 is one of my best inspirations when I want to write music. I have lessons upon lessons from living there that I can tap into when I'm writing on any topic.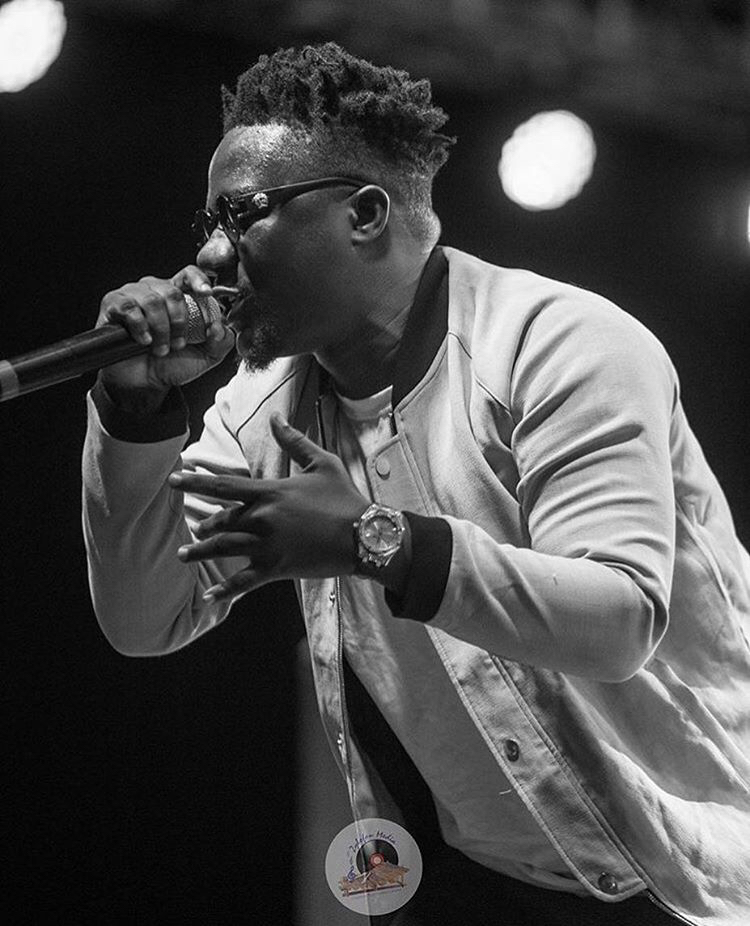 How long have you been making music as Obibini?
OBIBINI: The whole rap thing started for me in my high school days at Adisadel
College (Adisco) in Cape Coast. I was a part of this rap group called IDM, Ill Deadly Ministers. We were four in number doing our thing in those days just for the clout. But professionally, I'd say I have been making music since 2011.
Starting music, have you always used the name Obibini or there has been another name?
OBIBINI: Back in Adisco I used the name Buddha after the founder of Buddhism.
I was so much into hard core Hip Hop. I wasn't ready to be malleable for anything. After school, I realized I wanted to do music professionally and so I thought Buddha needed to go. So after a little meditation, God gave me an idea, Obibini. Obviously, black is beautiful, infinite and naturally inspiring. I chose Obibini because I felt it was a name that will talk a lot about me before I even step up on a stage. If you ask me, I'd say I think it's the best name out there in the rap industry and music industry as a whole.
What made you choose Hip Hop as a genre?
OBIBINI: First of all, I am a rap fan. I went crazy for Hip Hop when I was a very young lad. I remember back in JSS, I could do the whole Obrafour's Pae Mu Ka album. My classmates wouldn't even go for break because they enjoyed listening to me rap. I went to secondary school and I felt like no, this is the time for me to discover myself. I started writing my own stuff and I like to consider myself as an all-round musician sometimes but Hip Hop is my main medium of expression.
Due to the skirmishes going on with Nam I and Menzgold, where do you stand with Zylofon? Are you still with the label?
OBIBINI: I am still with Zylofon Music and I still feel very proud of Zylofon and I haven't regretted joining Zylofon.
Get the full interview in our July issue. Click the cover below to download it.