"CHECK YOUR DM" Might Be A Cultural Reset In Ghana's Podcasting Landscape
Oral Storytelling has always been a part of our cultural setup.
They were mostly driven by radio, but with the marked increase in popularity of audio-on-demand format known as podcasts, it goes to say the world has opened to taboo and even risqué subjects.
Stream on Apple Music: https://podcasts.apple.com/gh/podcast/cydm/
Undeniably, it is hard to meet your partner at the bar, art gallery, party, or even at the church than they make it look like in romcoms.
Online is the commonest place people are looking for companionship, love, sex, and everything in between.
Despite this, people are still very uncomfortable admitting they met someone online; especially on dating apps.
No matter the app, they're more comfortable saying they slid into someone's DM.
Check Your DM brings you real stories of how people are navigating the complexities of online dating and sex culture in this digital age.
"Hosting Check Your DM means I get to be a part of conversations on online dating and finding companionship, which also helps me understand my path as well as be a source of information for other people searching for answers." – Fui Can–Tamaklo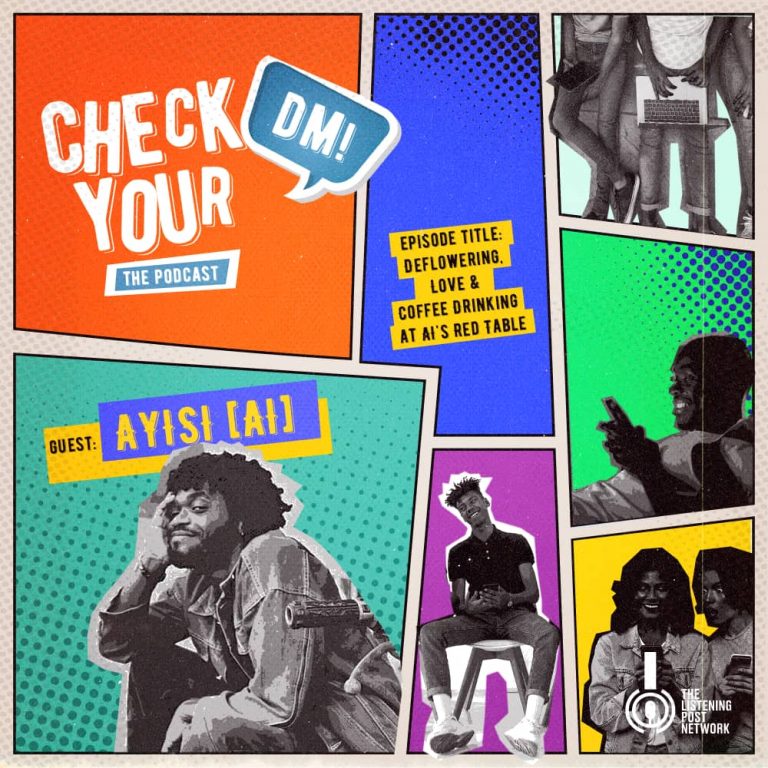 Stream on Spotify: https://open.spotify.com/episode/CYDM
Podcasts are perfect content for millennial who are known for their fickle attitude towards content consumption, and if we're being honest, towards everything else; including their preferred online dating app.
Boomplay: https://www.boomplaymusic.com/share/artist/16249387?srModel=COPYLINK&srList=IOS
This show is refreshing, honest, entertaining, and admittedly bold.
It demystifies the myth surrounding online dating in this social age without trying.
"for me, this means opening up a pathway for others to talk about their dating mishaps. There is healing in knowing you're not alone in various situations. CYDM gives me the opportunity to provide solidarity to all who need it" – Helen Appiah – Ampofo.
Stream on Aftown: https://efie.co/9zbOz
Check Your DM is the first of many diversified podcasts produced for a well-defined audience by The Listening Post Network the audio content network of our parent company Muse Media Networks.
The mission of LPN is to curate, produce, and tell audio stories for an impassioned audience.
Check Your DM is available every Friday on; Apple Podcasts, Spotify, Boomplay, Aftown, Deezer, and Stitcher.